#EUaviation25 – P2F in Germany
The European Commission celebrates today the 25 years of the EU Aviation Market that started June 26th 1992. It is with delight that we chime in amidst prayers of travel ever cheaper, safer and open to more people than ever before.
Quotes – Here is one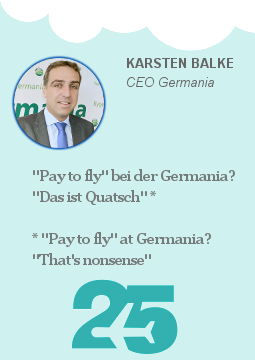 In a campaign exercise of quotes, ranging from European Commissioner for Transport to Airport and Airline CEOs, we thought only fair to quote yet another CEO.
Assuming a thriving Aviation market following 25 years of liberalization in one of the countries it served best, we quote Mr Karsten Balke, Germania's CEO:
The very idea of such an egregious practice to make airline pilots pay to work is ludicrous.
Surely 25 years of "changes that have propelled European mobility forward, […] bring[ing] Europeans closer together and providing solid foundations for more jobs" didn't spell engineered contractual doom and apocalyptic working conditions of chaos.
You live in "La La Land"
It turns out, March 2015 Germania's CEO quote was untrue in content. During the same time frame:
A Schiphol-based (Netherlands) company called Flight Simulation Company – Training (FSC-T) intermediated, on pilots' behalf, temporary labor agreements between the latter and an "Airline-Partner"
The Airline-Partner is Germania Fluggesellschaft with which FSC-T had a framework agreement, as can be seen below:
FSC-T charged 58,900 € (VAT inclusive) to make available a A320 type rating training program…
…and a minimum grand total of 1000h block on A318/319/320/321 aircraft including Line Flying under Supervision (LIFUS) and Line Flying (LIF) experience on aircraft it couldn't possibly own !
Price included intermediation towards a temporary labour agreement with the "reputable airline" for conducting the LIFUS and LIF
In other words through a Dutch "training" company, "reputable" Germania agreed to sell 1000 work hours (with passengers) to pilots on the A320 series at €58,9k.
This is Europe today after 25 years. A serious wake-up call is long overdue.