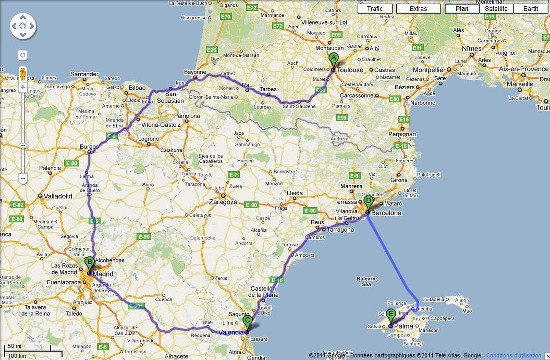 This trip took 10 days on a non-stop 'I'm-looking-for-a-job' basis, includind a week-end (during which of course every office was closed).
A.->B. Taking the car, leaving France from Toulouse, I was tempted to say that cutting through the Pyreneans would be a savvy idea. Experience proves this wrong, or make sure 1st the various tunnels allowing the passage are open…
Google map provides the best solution depicted above in 8h instead of my 10h.
B. In Madrid the companies visited were:
Mint Lineas Aeres Arfe 66, 28016 Madrid (Spaniards have their street number after their street names)
Pan Air lineas aereas Barajas, avenida Central, Edificio TNT PAR 1, 5
Pullmantur air calle Mahonia 2, 6xta planta (6th floor), 28043 Madrid
Swiftair calle ingeniero Torres Quevedo 14, 28022 Madrid (phone at 91 748 07 60 and ask an appointment with 'el senor Julian Bustamente' responsible fot the Human Resources, you'll be able to argue on your case in front of the man, which is rare and enjoyable).
Aerobalear calle Francisca Delgado 9, 4rta planta (4th floor), 28108 Alcobendas Madrid
Air Link Solutions calle Narciso 20, 28016 Madrid
Best Fly calle Serano 32, 4rta C, 28001 Madrid
Gestair calle Anabel Segura 11, 28108 Alcobendas
Iberia they don't recruit via postal mail or CV, only internet and you must be more than 1500h old
Coyotair they do only helicopter…
B.->C. No hassle, 4h of road time.
C. In Valencia the companies visited were:
Air Nostrum avenida Comarques del pais valencia 2, 46930 Quart de Poblet, Valencia (hard to find- avenida is often noted avinguda its Catalan traduction)
Wondair On Demand Aviation calle Paz 11, 3ra planta, 5a (door number), 46003 Valencia
BN Jet Aviacion Privada del Mediterraneo Occidental avenida de Aragon 12, 7b, 46024 Valencia
Taxi Fly Group their offices in Valencia were said to have moved in Barcelona, still, they couldn't be found there either
C.->D. No major problem ('took a hitch-hiker that had a lot to say about God…), 3h30 of road time.
D. In Barcelona the companies visited were:
Flightline 08820 Prat de Llobregat
Top Fly Sabadell apartado 1037 08204 Sabadell Barcelona, I think I remember that this office was in a residence, so don't be afraid if you're received by the CEO's daughter…
Vueling Airlines Parque negocios Mas Blau II Pla de l Estany 5 08820 El Prat de Llobregat Barcelona
Corporajet XXl avenida de las corts catalanes 2 2 do 08173 San Gugat de Valles Barcelona
Executive Airlines calle Consejo del Ciento 106-108 4rto 1 a Barcelona 08015
Spanair Plaza Europa edificio Spanair 54 08902 L hospitalet de Llobregat Barcelona
Euroailines they couldn't be found at calle Neptuno 63 3ero (floor) 08228 Terrasa Barcelona, they were believed to have new offices, maybe in Valencia… (too late I came from there) Their phone was dead at 93 7854200 but I was given 93 7054200 that I didn't try.
Taxijet ap Sabadell edificio Taxijet Hangar 7B 08205 Sabadell Barcelona, for some reasons I can't remember, I was unable to find that place
D.->E. I took the ferry for that part. Duration: enough to get some rest
E. In Mallorca the companies visited were:
Air Europa calle Globalia Pol de Son Noguera ap correos 132 07620 Lluchmayor Mallorca
Alba Star av Conde de Sallert 23 07003 Palma de Mallorca
Iberworld Airlines carretera Valldemossa edificio Orizonia 07121 Palma de Mallorca
Servicios Aereos Integrales avenida Asima 17 07009 Palma de Mallorca
Privilege Style calle Cami Son Fangos 100 07007 Palma de Mallorca, impossible to find them
Baleares Link Hola Airlines camino Son Fangos Mallorca, impossible to find them either
Valencia could be done in 1 day, Madrid took most of the time followed by Barcelona and I suggest you spend the week-end there as I did.
The most courageous of us can take a plane from Mallorca to 'Las Islas Canarias' to keep on looking for a job.
I did some companies I didn't even know existed I found on the way, so I'd advise to always have spare CVs with you just in case.
Answers received: none