According to mainstream media, there is a consensus where strikes in general are a liability for corporations in various sectors. Having suffered a major blow however, the era where aviation unions had bargaining power is officially gone.
From this day forward, (as you will read on the NRK Norwegian Broadcasting Network article below), not only are strikes mitigated, they are also a mean to make more money than normal day operations, by:
maintaining the airline activity (destroying any union's leverage along the way) and
adding extra revenue from a labour force that… pays to work (keeping pilots' financial pretentions on a leach)
Without further addo, there goes…
Norwegian uses controversial airline from Lithuania to solve their pilot crisis
Inexperienced pilots pay large sums to get aviation experience in Lithuanian Small Planet Airlines. Norwegian used this company to avoid cancellations during the strike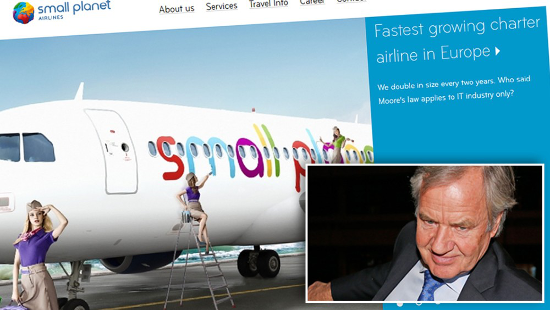 [To avoid cancellations on European routes, Bjørn Kjos, CEO of Norwegian, hired numerous unknown companies.]
During the recent pilot strike Norwegian leased aircraft and crew from a number of foreign airlines in order to carry out their flights in Europe. The use of these airlines was sharply criticized as being strikebreaking.
Documents that NRK has seen prove that one of these airlines, Small Planet Airlines from Lithuania, uses a highly controversial scheme called "pay-to-fly".
This "pay-to-fly" scheme means inexperienced pilots who are unable to find a job elsewhere, are paying large sums to be allowed to fly for this airline.
Critics argue this not only poses a safety risk, but is also gross exploitation of labour
Pilots must take out loans
These pilots hope to gain enough experience to get a job elsewhere, but they work in conditions that are a far cry from the conditions the Norwegian pilots are fighting for.
In 2013, a pilot had to take out a loan and pay 35,000 euros in advance to fly for Small Planet during four months, as appears from the contract documents that NRK has seen.
The contract states pilots had to pay off the loan whilst flying for the airline. Therefore they are bound to fly for the company.
The pilots receive a monthly salary of around 3,117 euros before taxes. A protest group of young pilots named Cockpit Seeker that fights against the "Pay-to-fly" schemes, has provided NRK with the necessary documents.
"Small Planet still uses the scheme today. We are in touch with several pilots who have recently paid to fly for this company," said Vanessa Sanchez, one of the members of this group.
During the strike Small Planet performed about 50 flights for Norwegian, according to research NRK has done on the website Flightradar24.
Fear for safety
The Small Planet contracts state that the company can fire pilots if they become ill and/or are absent from work for more than ten days.
According to Jack Netskar, SAS pilot and head of International Affairs of the Norwegian Pilots Association, these working conditions, together with the fact that pilots must fly to pay off their loan, are a threat to aviation safety.
He fears that these pilots go to work, even if they are not fit to fly.
"When you have paid so much to build up flight hours, you will have to fly, no matter what," says Netskar.
Slave Contract
One pilot working for Small Planet had a very uncertain position during the months he worked for the company.
He was actually employed by a staffing company in Cyprus called Pilot Management Services, and he paid this company money to fly with Small Planet.
The pilot contract states amongst others:
the pilot can be prosecuted if he is over 30 days late in paying interest and principal on the loan.
the pilot can be terminated without cause, with 30 days notice.
the pilot will be fined over 10,000 euros if he reveals the contract content.
"It is a pure slave contract where they exploit the fact that there are more pilots than jobs," says Netskar.
He calls it "despicable" that Norwegian used this company to fill the gaps in their flight plan caused by the strike.
Norwegian Civil Aviation Authority is not concerned
The pilots in the "Pay-to-fly" scheme only work as co-pilot, and therefore fly with an experienced captain in the cockpit.
The Civil Aviation Authority, which is responsible for aviation safety in Norway, does not consider the pay-to-fly scheme to be a problem.
"Pilots have been trained within commercial companies for years. However, it is new that some companies ask money to train pilots within their own company," says Frode Lenning, head of Fleet Operation Section, CAA.
So there is no reason for concern?
" We have been training cadet pilots in the cockpit for years, at different levels. What is new here, is the social aspect, and this is not part of the aviation safety regulatory system," Lenning says.
We hire approved companies
Norwegian states that they didn't know that Small Planet uses "such a scheme", but says, "all airlines lease planes and crew from companies that are approved by the European aviation authorities".
VP Media Relations Lasse Sandakerveien-Nielsen from Norwegian, in reply to the accusations from Netskar:
"The agenda of SAS pilot Netskar is quite obvious, namely to scare customers away from Norwegian. We hire approved European companies to serve our customers, and we will inform them in advance via SMS which company will carry out the flight".
Small Planet was not willing to answer questions. So far, Pilot Management Services has not responded to NRK inquiries.
Source: www.nrk.no
En glish translation courtesy Nienke Groenendijk