With now more than a year under our belt on p2f (5 months after the official campaign kicked in), we gathered enough information to expose the enablers.
Since most media are quick to report the trees for the forest like the Germanwings 4U9525 crash (outing copilot Andreas Lubitz as an outright psychopath without questioning our industry)*, today is our turn to focus on the "trees" to sort the bad apples out, starting with:

Founded in September 1995 with CEO Jean-Marc René Bollinger, former Continental Airlines pilot (picture above), and headquartered Miami FL —like Stephane Hoinville's EagleJet and former spearhead Gulfstream International— , this company offers services such as Cockpit and Cabin Crew training for which, as of 2015, the pilot training offer could read as follows:
Ludicrous commercial deception aside, one learns WAS has allegedly delivered "over 2000 pilots to airlines worldwide including Air Gabon, Air Madagascar, Asiana Airlines, China Southern Airlines, Hainan Airlines, Hong Kong Airlines, Royal Air Maroc, TAAG (and many more)" with a training for which:
"there is nowadays in France a lot of polemic going on about […]"
The catch? After a "line training […] at the candidate's expense" (pay-to-fly – p2f), you are supposedly entitled to an employment "official letter" to secure an employment? interview (example given of Hong Kong Airlines)!
The man behind this program…
In light of such business innovation, is it fair to assume our entrepeneur's character would reflect on him? Fast backward July 8th 2006.
That Saturday afternoon, an Air France flight 95 was supposed to leave from Miami International Airport to France, but police were summoned to the airport after they received a call from a man who said his wife, a Lebanese citizen, was a threat to the safety of the flight.
A few minutes before it was scheduled to take off, that man (with their 17-month-old daughter) went to the Air France ticket counter and said that his wife, who was onboard, planned to blow up the plane, saying at first that she was angry about the arrest of a Lebanese citizen in a terrorist plot, and that she had said that "les américains allaient voir ce qu'ils allaient voir".
All 400 passengers onboard were evacuated. Investigators found the woman, who was traveling to Lebanon, and questioned both her and her husband.
FBI agents said that during the interview, they found out the woman never made any type of threat and instead arrested her husband, Jean-Marc Bollinger.
It was determined that the woman wanted a divorce (she showed bruises that she claimed were from her husband hitting and pushing her) alleging he abused her and wanted to go to Lebanon with the couple's daughter, but that Mr Bollinger refused, making up the story about the threat to try to keep his wife from leaving on the flight, as he later confessed.
French Bollinger was arrested and charged with criminal mischief and filing a false police report, avoiding several years in jail.
Incidentally, the mishap is said to have cost Air France $15,000 in operating costs while the plane was delayed and searched (no word as to whether his wife took another flight).
Charges
| Seq No. | Charge | Charge Type | Disposition |
| --- | --- | --- | --- |
| 1 | CRIM MIS/1000+ | FELONY | NOLLE PROS-COMP PTI |
| 2 | ALSE REPORT/CRIME | MISDEMEANOR | NOLLE PROS-COMP PTI |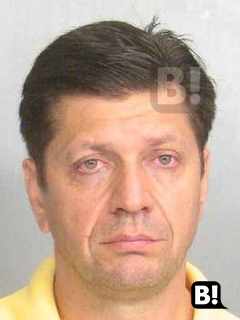 Mugshots.com ID: 66145180
Name: BOLLINGER, JEAN-MARC RENE
DOB: 9/14/1959
Court Case No: F-06-022316
State Case No: 13-2006-CF-022316-0001-XX
Date Filed: 7/10/2006
Date Closed: 10/17/2007
Warrant Type: N/A
Assessment Amount: $0.00
Balance Due: $0.00
Stay Due Date: N/A
Hearing Date: N/A
Hearing Type: N/A
Court Room: REGJB – JUSTICE BUILDING, ROOM No.: 2-3
Court Address: 1351 N.W. 12 ST
Previous Case: N/A
Next Case: N/A
Judge: COLODNY, YVONNE
Defense Attorney: MAULTASCH, RANDY
Bfile Section: F021
File Location: SCANNED
Box Number: N/A
Probation Start Date: N/A
Probation End Date: N/A
Probation Length: N/A
Probation Type: N/A
Defendant in Jail: N
Defendant Release To: HARVELL/ILM
Bond Status: DISCHARGED
Bond Type: RELEASED OWN RECOGNIZANCE
Bond Issue Date: 8/24/2006
Bond Amount: N/A
Names / Aliases: N/A
…is your pilot "provider"?
There you have it. While the picture above is probably the closest thing pilots will ever witness to a p2f felon behind bars for abject labour law discrepancies profiteering, that such a "colorful" profile could –and still does?– provide pilots to airlines (simultaneously preying on his kin) is beyond belief.
From there, with an added value of "zero", the need for intermediaries and brokers is anyone's guess (particularly after such blatant displays of integrity and candor). Sure, pilots are screened against criminal records, though perhaps it is time we come to realize criminals/psychopaths are not necessarily where we're led to believe.
* Except for these articles in The Atlantic, The Conversation, Boulevard Voltaire and excellent Global Research, notably.