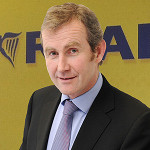 Last June 4th in Brussels was held "A Social agenda for transport", a high-level Conference where John Horne laid bare aviation's challenges once again, until…
Today, we will confront facts yet again and see what this Michael Hickey is all about.
Initial claims
Time and again, regarding bogus self-employment, pay-to-fly and social dumping in general, we quote:
"[Ryanair doesn't comment on] false claims and anonymous surveys [that are] total rubbish [with] no basis in fact or evidence. Since Ryanair only recruits fully qualified pilots, no Ryanair pilots 'pay to fly'. These pilot union claims are simply untrue […] [It is] false accusations […] none of the Ryanair pilots pay-to-fly"
Reality check
First, if all the recruits at Ryanair are "fully qualified", it is rather bizarre some are referred to as "cadets" entitled to pay their B737 NG type ratings €29,500 (TR – an aircraft qualification), £260 non-refundable assessment fee (CAE's cut?) excluded.
Let's assume those are not the pilots Robien Kiely was referring to, mentionning (directly) employed pilots rather than "self-employed" ones.
Indeed as of october 5th 2012 for instance…
…689 pilots were self-employed, becoming "Company Representatives" for their own Limited Companies through one of the following "accountants" (all in Ireland of course):
One can have a look at one of them, O'Connor & Associates' modus operandi described by themselves for instance (oops, looks like Italy lost some tax revenue).
How does Ryanair hire those pilots Company Representatives? Simple, it does not!
Instead, the hirer ("Ryanair Plc") pays the services of an independent contractor (Brookfield here) which in turn engages the independent Service Company operated by none other than the Company Representative, aka the pilot!
In other words, Mr O'Leary's (and his minions') left hand doesn't know what his right hand is doing (at least that's what our legal system is buying)!
Verdict
Coming back to Ryanair's Brookfield's "self employed" pilots err… I mean "Service Companies", item 5 of their contract:
"The Company Representative will be responsible for the cost of the line training flights […] The charge of €20 psbh [per schedule block hour] is payable for all flights operated until the end of the calendar month that the company representative is line checked."
Which means once translated into english:
"Pilots will pay line adaptation flights at a rate of €20 per scheduled block hour until the end of the month they are officially accustomed to their aircraft" [up to €150 provided 5.a or 5.b]
Meaning only one thing:
Michael Hickey was right to be pissed! There is no pay-to-fly going on at Ryanair's, it's Brookfield that does it on their behalf! Oh wait…